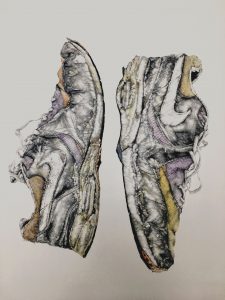 Manuel David Bautista León nació en la Ciudad de México el 20 de octubre de 1987. Es Licenciado en Artes Plásticas y Visuales, por la Escuela Nacional de Pintura, Escultura y Grabado "La Esmeralda" (2011-2014). Produce obra a partir de la síntesis; esta enfocado en retratar las cualidades temporales, espaciales, materiales y simbólicas de los objetos posteriores a su vida útil. Actualmente ManuBLeón se preocupa por la búsqueda de una estética en un constante cuestionamiento del desecho en los modelos de las estructuras sociales y económicas. Ha sido seleccionado para la 5th Bronx Latin American Art Biennal en Nueva York y Estampa Arte Múltiple en Madrid. Ha contado con dos exposiciones individuales "De lo residual a lo emergente" y "Vestigios Inmarcesibles"; y ha sido selección en múltiples exposiciones colectivas como "A tiro de fuego" (MUNAE). "Rinoceronte de Cristal" (España) y en las exposiciones "Big Future" y "Salonukah" en Nueva York. Destacando su participación en la Subasta México Vivo (CDMX) por tres años consecutivos.
---
Manuel David Bautista León was born in Mexico City on October 20th, 1987. Holds a degree in Visual and Plastic Arts from the National School of Painting, Sculpture and Engraving "La Esmeralda" (2011-2014). Produce work from the synthesis; is focused on portraying the temporal, spatial, material and symbolic qualities of the objects after their useful life. Currently ManuBLeón is concerned withthe search for an aesthetic lies in a constant questioning of the waste in the models of social and economic structures.
He has been selected for the 5th Bronx Latin American Art Biennal in New York and Estampa Arte Múltiple in Madrid. He has had two solo exhibitions "From the residual to the emerging" and "Immersible vestiges" and has been selected in multiple collective exhibitions, like "A tiro de fuego" (MUNAE), "Rinoceronte de Cristal" (Spain) and at exhibitions such as "Big Future" and "Salonukah" in New York. Highlighting his participation in the México Vivo Auction (CDMX) for three consecutive years.